19/09/2011 Update:
Alternative 4 have already delivered both Audio and their side's Artwork for the announced split 7″ EP.
'False Light' is among the heaviest tracks of 'The Brink' album, which sees Duncan returning back to a more "rock-electronic instrumentation" based project. A proper post about the album is being delivered shortly.
Now to focus on this very EP, the lyric for this song has a special meaning to Duncan, as he dared to release a proper press statement to define what are today's false light and how dangerous they can be:
"When I quit Anathema I was held back and silenced, lied about in press releases, stopped from being paid, and written out of the band biography. All of this was both done and encouraged by parasitic people who had nothing to do with our music. People sniffing around wanting a piece of the pie, regardless who was playing under the brand name. It could have been any of us, though it was me who had just written the lions share of Alternative 4 and the Eternity albums which were hugely important releases. I've had a healthy and exciting career since then and I'm not an angry young man anymore looking for justice. I can look back at things calmly, from a balanced perspective, and see how these things have affected my life, and still affect my reputation to this day in a way. It's nice to be in position like this to write about it. It really could have been a career-ending situation really if it wasn't for my determination, and thats bang out of order. The power of a big company using the media as a tool is not to be underestimated. Luckily, back then, more people seemed to make their own minds up about things, in spite of being without the instant updates that the internet can provide. False Light is a play on words, using parallels with organised religion, legal terms for the damaging of ones reputation, and the illusion of 'the celebrity'. "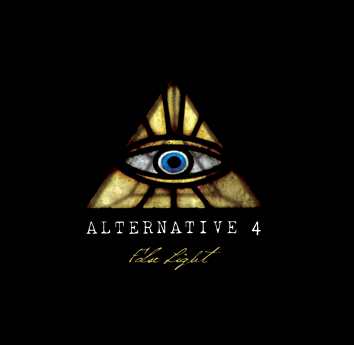 When it comes to the side-B of this single, italian MonumentuM, yet notorious for not being the most productive band on earth, have almost come to the end of their song, 'The River' (PJ Harvej), here appearing in a rather brave version, finally graced by the stunning voice of Dorina Leka as a guest.
Original Post 08/07/2011:
Duncan Patterson's new project band will unleash the song 'False Light' in late September, as a warm-up to their full length album 'The Brink', to be released one month after the EP.
Quoting Duncan's description, "False Light is probably the heaviest thing I have written in the last decade, at least in its portant riff. It is actually about (music) media control paralleled with religious control, the sheeple and the victims of circumstance."
It will be presented in a slightly different and edited mix than the album version will be.
Following up the release of the Shape of Despair/Before the Rain split 7″, Avantgarde Music will also release 'False Light' as an artists joint venture that will feature on Side B italian dark/doom pioneers MonumentuM, officially at their come back after a few years hiatus. MonumentuM's contribution will be an interpretation of Pj Harvey's dramatically beautiful 'The River' and will remain exclusive to this EP release, not to be included in their next coming album.
The 7″ will also be optionally offered in bundle with two exclusive (50 ex limited) T-shirts, one per each band and including a cd-listening copy too (mailorder orders only) for those who don't own a turntable or the lazy owners 🙂
Details about this edition and pre-orders instructions will be disclosed at a later point