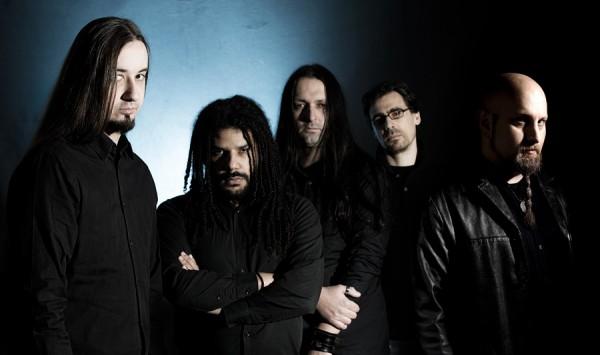 …and a sweet obsession started since day #1 when Valter of Portoguese band BEFORE THE RAIN linked me to their Bandcamp profile i have been playing and singing these songs endlessly and with no mercy for my neighbors: it's your blood singing and telling you what you should do: release this album and Be a part of it ! Any other discussion marketingwise and related bullshit becomes truely that: [bullshit !].
Before The Rain have a great potential forged both on the killer melodies of their vocals and guitars and the solid, slow, doomish songs structure. Definitely a record that will be appreciated both by higher class gothic/doom fans into Paradise Lost or Katatonia and sonic extremists more into funereal paths of music !
"Frail" was recorded at Fabrica de Som in Oporto, Portugal by sound engineer Nuno Maciel and produced by Valter Cunha. The highly anticipated follow-up to 2007 "One Day Less…" was mixed at Chapel Studios (MY DYING BRIDE,CATHEDRAL) in Lincolnshire, England by Ewan Davies (ANATHEMA) & Valter Cunha, mastered at Fascination Street Studios in Örebro, Sweden by Jens Bogren (KATATONIA, PARADISE LOST) and includes Natalie Koskinen (SHAPE OF DESPAIR) and Peter Bjärgö (ARCANA) as guest singers.
Commented BEFORE THE RAIN guitar player Valter Cunha: "We are honoured to become part of a rooster that include releases such as Brave Murder Day, Quietus, Magenta Skycode, among others. Avantgarde Music have been constantly releasing solid & relevant music in the past 20 years and it feels great to be a part of such a team. With this release we really found our voice, Frail is a much broader sonic journey than anything we have done before. Expect thunderous waves and haunting melodies".
The track listing is as follows:
01. And The World Ends There
02. Shards
03. Breaking The Waves
04. A Glimpse Towards The Sun
05. Frail
06. Peace is Absent
"Frail" brings a more mature sound from the band with a revamped line-up including new members Gary Griffth (ex MORGION), Carlos Monteiro and Joaquim Aires.
Since the release of the debut album "One Day Less…", BEFORE THE RAIN shared stage with bands such as KATATONIA, MOURNING BELOVETH, KREATOR, NAPALM DEATH, WATAIN, IMPALED NAZARENE, MOONSPELL and ORTHODOX.
Additionally the band and the label have scheduled a split 7″ with Finnish funeral doomsters "SHAPE OF DESPAIR". This split will include a new song from each band.
BEFORE THE RAIN are scheduling a tour over Europe on this year's fall.